Bathrooms aren't all about functionality and purpose. Modern design themes suggest against it. Modern-day bathrooms are meant to serve as a spa-like oasis that helps you unwind and relax, or an artsy space stuffed with quirky decor elements to catch the eye.
While bathrooms are the most neglected indoor space when it comes to festive holiday decorations – let's not leave them out this Christmas. Decorating the room with artsy decor can add a festive cheer invoking the true holiday spirit. And the best part is you don't have to set aside a sizeable budget to make your bathroom prepped up for Christmas.
From evergreen garlands and scented candles to Christmas-themed LED tones and embroidered towels, there's no end to ideas that add beauty to your room. But decorating a bathroom with a unique layout and interior design might require out-of-the-box ideas.
Let's count on some quick and crafty ways to decorate your bathroom for Christmas.
Christmas Bathroom Decoration Ideas
Here are a few ideas that will help you create a perfect bathroom for Christmas
1. Bring in Greenery with Garlands and Christmas Wreath
Whether you have a traditional-themed bathroom or a modern, more sophisticated one, greenery is at the epicenter of every bathroom decoration strategy. When it comes to Christmas, you have loads of choices to smarten up the room.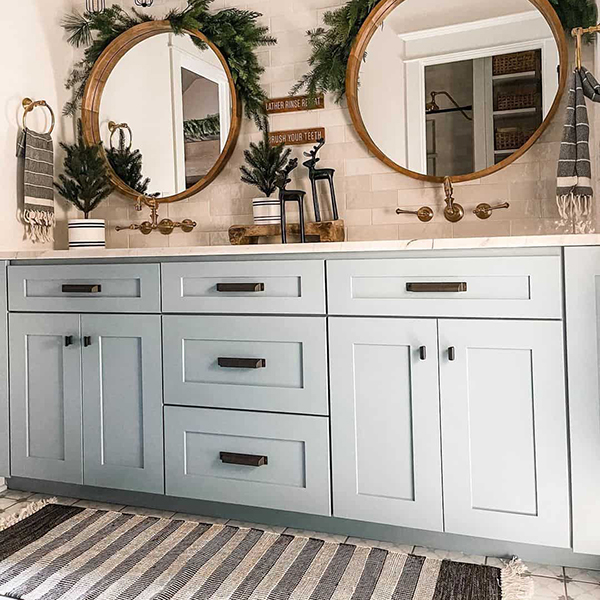 Besides the slight touch of naturality with plant pots, hang garlands around the windows and Christmas sheaths onto the vanity mirror. Couple the shrubs with some favorable lighting, and you can cheer up the mood of anyone who walks in. To infuse a playful touch, clip socks stamped with the name tags of your family beside the counter table.
2. Decorate the Vanity Counter with Coral Elements
Vanity units are probably the first thing that captures your attention the moment you walk into the bathroom, making them a centrepiece for festive Christmas decorations. Besides, if you are a fan of minimalism, setting the coral elements on the countertop will eliminate all the visual clatter.
Consider placing a small Santa figure in between your soaps and lotions or put the leftover baubles beside the towel tray for smooth festive touches. You can also take clippings from your Christmas tree, forming a lovely little shrubby vase on the counter.
3. Hang a Quirky Shower Curtain
What good are your decorations if they can't portray the full zeal and zest? Perhaps revamping the bathroom theme with quirky Christmas shower curtains would do the dead.
Unlike plain and boring curtains, these printed curtains in red and green floral patterns with an embroidered tree will impart the perfect dose of Christmas magic. While the choices are enormous, prefer hanging a shower curtain that aligns with other bathroom accessories for a uniform look.
4. Infuse a Lively Accent with Christmas-themed Lighting
The Christmas magic isn't complete without the appropriate ambient lighting. If you've got a slight bit of knowledge about interior design, you'd know lighting plays a bigger role in highlighting the look and appeal of a room. In the case of bathroom Christmas decorations, the role is even greater.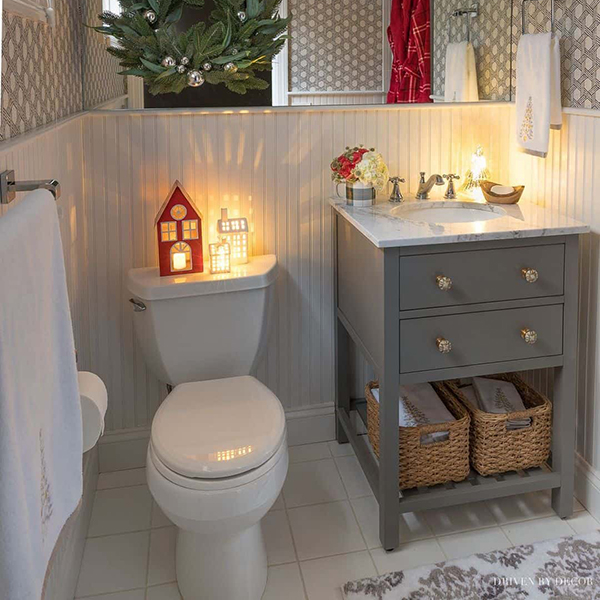 Apart from creating a soothing and warm tone with dim lighting, you can also invest in some lovely LED houses clad with wreaths and garlands. When coupled with similar glowing accessories, you can transform your bathroom into a holiday haven.
5. Set the Mood with Scented Candles
Decorating a bathroom for Christmas isn't all about improving the visual outlook; rather, you should incorporate things that appeal to your other senses as well – smell. Scented candles are already a vital element for most en-suite bathrooms, but in terms of Christmas, they do an excellent job of creating a magical atmosphere.
Besides spreading the cozy fragrance to the entire bathroom, they also exhibit a warm glow. Whether you light the candle with every bath session or save it for some special occasion, scented candles will always make your December nights more fascinating.
6. Place Cute Christmas Accessories on the Shelves
If you want to make your bathroom look and feel like Christmas eve, don't let the shelves go to waste. Besides providing that extra bit of storage, shelves make the ideal location for showcasing new accessories and ornaments.
One trip to the nearest supermarket can get you enough Christmas decor items to spruce up the bathroom shelves. If bright colors are not to your taste, perhaps black and white trinkets or baubles will add the desired touch. While you are at it, don't forget to take out those embroidered Christmas towels that spark the holiday joy.
7. Clad the Wall with Festive Wall Frames
Instead of layering up the bathroom walls with Christmas-themed wallpapers to incorporate the theme, hanging wall frames can be a cost-effective and quicker way to prep your room. With plenty of Christmas wall frame signs online and in business stores, you can choose the design and typography that matches your style. Or, if you are the artsy type, you can DIY your own festive wall frames for the incoming Christmas.
FAQs about Easy and Inexpensive Ways to Decorate your Bathroom
Here are a few frequently asked questions about decorating your bathroom for the festive season.
1. What are some easy and inexpensive ways to decorate my bathroom for Christmas?
Christmas is a time of joy and celebration, so why not add a little festive cheer to your bathroom? The easiest ways are hanging a wreath on the door, placing a Christmas tree in the bathroom, decorating a toilet seat with a Santa claus cover, hanging ornaments from a towel rack or shower curtain rods, etc. In addition to that, you can hang some ornaments from a towel rack or shower curtain rods.
2. How can I add a festive touch to my bathroom without going overboard?
You can add a festive touch to your bathroom without going overboard by using bright colours, adding holiday-themed décor, or playing music that sets you in the mood. If you want to use bright colours, consider painting one of your walls in a bold hue or adding a touch of colourful shower curtain. If you'd rather stick with traditional holiday decor, hang a wreath on the door, put up some stockings, or place a Santa hat on the toilet seat. And finally, to really get into the spirit of things, put on some cheerful holiday music while you're getting ready for Christmas dinner.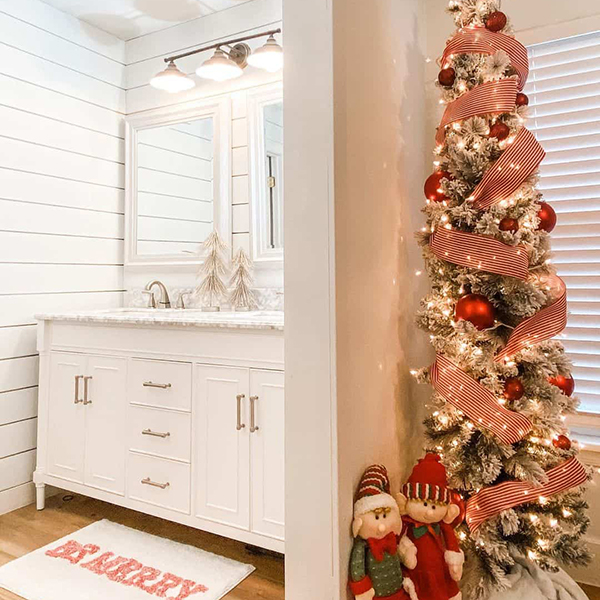 3. What are Some Tips for Decorating My Bathroom for Christmas On a Budget?
Decorating your bathroom for Christmas on a budget is not that difficult. Here are a few tips for that.
Tip 1. There are lots of great DIY projects out there for cheap and easy Christmas bathroom decor. Pinterest is a great place to start.
Tip 2. You can use candles as These can add a lot of festive cheer without costing a lot of money.
Tip 3. You may also hang some Christmas lights as these will make your bathroom feel brighter and more cheerful. And on top of that, these are affordable too.
Tip 4. Adding some seasonal touches can also be a great way to create a Christmas bathroom for less. For example, a wreath on the door, some mistletoe, or even just a few pinecones can go a long way in making your bathroom feel Christmassy.
4. How Can I Make My Small Bathroom Look Festive for Christmas?
One way to make your small bathroom look festive for Christmas is to hang a wreath on the door. You can also put up a few Christmas decorations, such as a Christmas tree or an ornament. If you have any extra space, you could also put up a stocking or two. Last but not least, you can always light some candles to create a warm and cozy atmosphere.
5. What are Some Ideas for Decorating My Bathroom for Christmas If I Don't Have a Lot of Time?
There are many last-minute bathroom Christmas decoration ideas that invoke the festive feel in the bathroom. You can simply bring in a Christmas tree with lighting in the bathroom. It will be the quickest way possible. Alternatively, put some theme rug or any similar accessories with red colour around.